https://comprisetechnologies.com/wp-content/uploads/2021/10/IMG_0529.jpg
480
360
Brendan Coulson
Brendan Coulson
https://secure.gravatar.com/avatar/6bbe86aa21fb68a2e4307f205c87009e?s=96&d=mm&r=g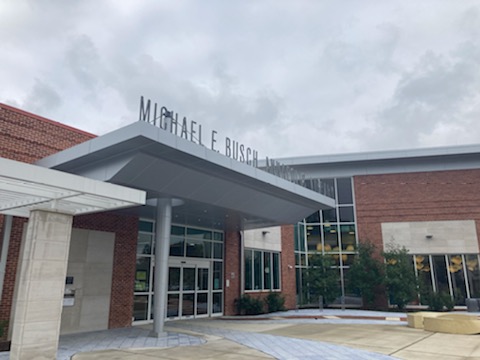 AACPL & Discoveries | Prose of a Traveling Man
As I drove into the parking lot of Anne Arundel Public Library (AACPL) I was impressed by the architecture as well as the EV charging stations for electric vehicles. The new building was completed last year and has a very modern design. Entering the library there lay a map of the Chesapeake Bay on the floor and a beautiful wooden plaque commemorating the donors who helped make this library possible. It's a wide open space with smaller areas dedicated to all age groups from early childhood through adulthood. AACPL is celebrating 100 years of serving the community and what better way than with a brand new building and some amazing resources.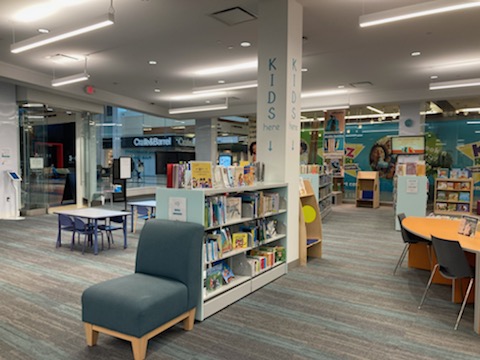 I was introduced to some of the staff by manager/s Gloria and Dianne. Gabby, a staff member, gave me a tour of an area of the library that allows space for different STEM activities. This area has state of the art resources including a 3-D printer, sewing machines, t-shirt presser, snap circuits (for kids to learn the basics of electric engineering) and ceramic resources for members in the community looking to try their hand at pottery. AACPL provides in-person classes as well as virtual classes for many of their services. The online pottery course has been a big hit and has over 20 people signed up. Gloria also shared a story about a proactive local eagle scout who came in to sew on his own eagle scout badge.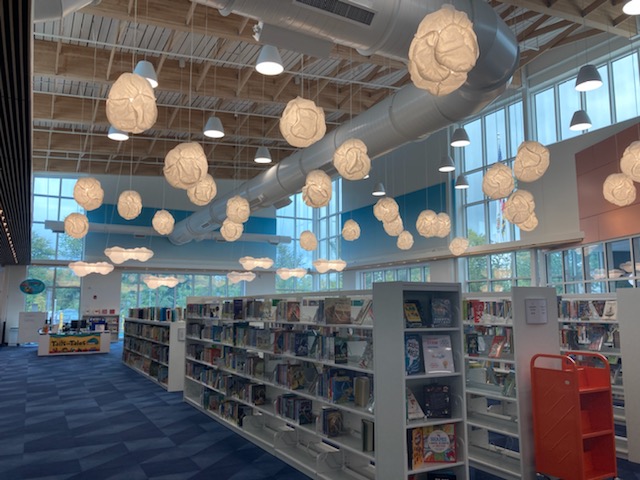 After the STEM area of the library, Gloria showed me the early childhood corner as a librarian was reading Storytime to several toddlers and their parents. This area seemed like a great resource for the children and had a colorful magnetic wall that had a presentation of the city of Annapolis as well as the Maryland library mascot "Sneeks". The magnetic wall also provided letters along with visual cues on how to pronounce different sounds, giving kids a chance to spell their names and other words they were interested in
The teenage area of the library sat in the middle between the early childhood corner and adult section. The alcove was well equipped with computers, providing all the tools needed for research. There is also an ample amount of space for teens to socialize with comfortable seating for talking, games to play on systems like the Nintendo Switch, as well as a green screen for different types of presentations teens can use on various projects. AACPL also provides events such as movie nights for teens.
Finally, I made my way to the Annapolis Mall and stopped in at Discoveries. This is a branch of the library that sits in the corner of the mall. I was welcomed by Aurelia who explained that this branch provided a gamut of programs for all ages as well as a food pantry for those in need. Discoveries provides support for about 30-40 customers per week with essentials like diapers and women's products. Like AACPL, this branch provides a space for young children as well as teens to gather and socialize in a safe place. Aurelia explained that they were setting up for a Mario Kart tournament and another employee, Peter said that this Saturday they will be hosting a Cat Castle "Caturday" where friends and families can partake in making their own cat home for their pets.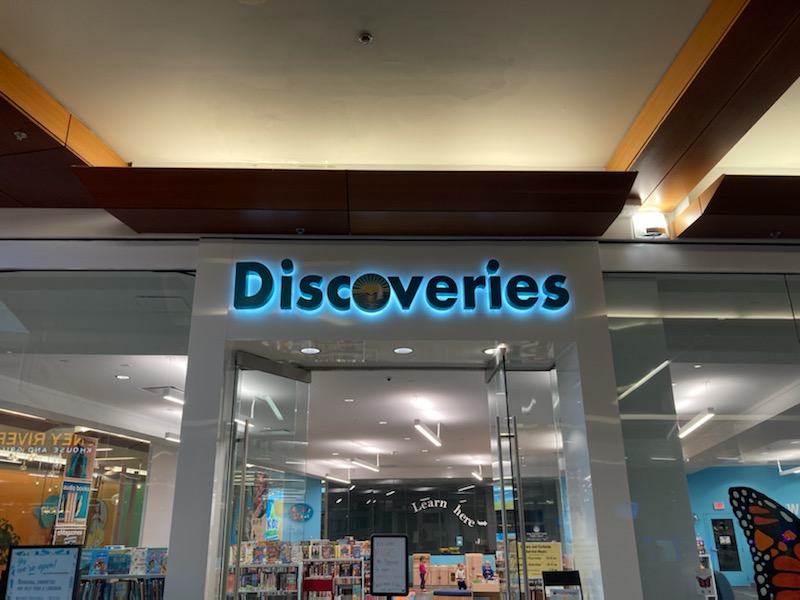 I was bound to the feeling of encouragement when I saw the various resources available for all ages at both of these sites. It was a pleasure to get a chance to see how the Anne Arundel Annapolis Public Library and Discoveries have their feet grounded in the past with a mindful idea of how to reach their community with modern advancements looking towards the future.